Accessing these resources from home or school may require a password.
Forgot the password???
Ask your librarian or see page 9 of the Student Handbook.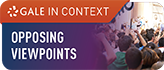 Gale Opposing Viewpoints In Context …This online resource focuses on today's hottest issues to support research in science, social studies, current events and language arts. All sides of the issue are presented encouraging critical thinking skills. Multimedia informational resources include viewpoint articles, statistics, reference, biographies, magazines articles, academic journals, news, primary sources, websites, images, video, and audio.
(Updated 11/3/17)

Gale Virtual Reference Library … Gale Virtual Reference Library is a collection of reference books in an eBook format.  Access them 24/7 from any device.
Libraries Linking Idaho Databases (LiLI.org)… Libraries Linking Idaho is an information portal provided by the Idaho Commission for Libraries.  This vast collection of resource databases connects information to learners of any age and informational needs.  Learners will find information in a variety of formats including journal articles, news, reference, video, audio, images, and primary source documents and artifacts.